There's a bunch of miscellaneous stuff that I want to talk about, so I'll compile it here. For those of you who love following links, go nuts. For those of you who don't...sorry Charlie. I got links to share.
I've been meaning to talk about
Nurture Shock
. It was so good. A book that is easy to read because each chapter is independent of the others - perfect for nursing mothers or those who like to read while on the
potty
toilet. If anyone else has read it, mention it in the comments - if anyone wants to talk about, let me know and I'll dedicate a whole post to it. Because it's so freakin' good.
E and I made
these
for our neighbor. We actually took it a step further and painted coffee filters with water-based markers and then sprayed them with water till the colors ran together. Then we walked them across the street and handed them to our neighbor because she's nice to us and we wanted to show our appreciation.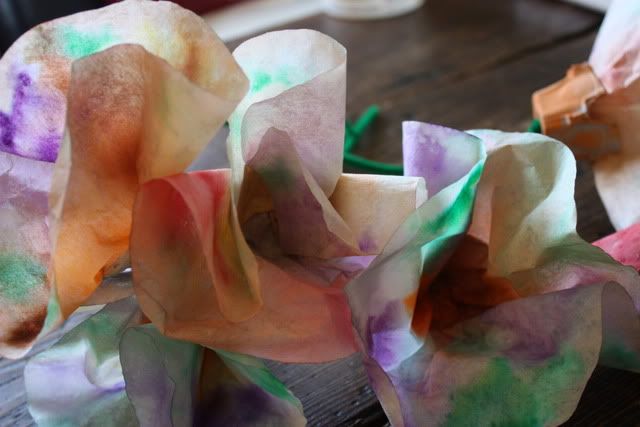 Just received my latest cloth diapering accessory from
Petunias
over at Etsy.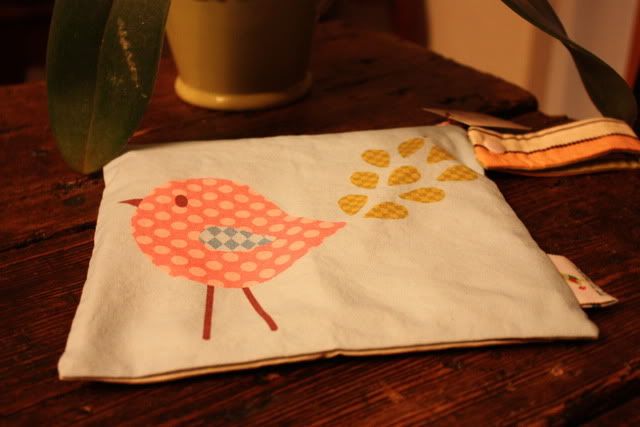 Isn't it beautiful? I love it. And thanks to chubby girl baby butt, I have a newfound passion for cloth diapering. And I'm doing a good job of not buying one of
these
. Keep telling myself that front-snapping diapers are not for us.
I'm addicted to
Caspar Babypants's More Please and Ziggy Marley's Family
thanks to Stefan over at
Zooglobble
. Thanks to Stefan, we listen to some rocking toddler tunes instead of annoying and crappy kid "music."
Watching
The Pacific
in hopes that it's half as good as
Band of Brothers
. I don't like wars or movies made about them. That being said, I loved Band of Brothers. Have watched it half a dozen times and grow to love it more each time. Have a Brian Williams-esque crush on Major Winters.
Joined a
CSA
. I'm really excited about it. D commented the other day that now that E is basically a miniature version of
perfection
an adult, we fill the dishwasher almost every day. And with B starting solids last week, there will be four of us eating healthy, locally-grown organic produce.
Watching
Always Sunny in Philadelphia
from the beginning. It's so wrong, but so funny. And now that we have the back story, last season makes so much more sense. Frank is their
dad
.
I have kicked my addiction to
these
and replaced it with
this
. Figure I eat a ton less of it and it's better for me. It is the methadone to my heroine.
I'm hopelessly addicted to
Hipstomatic
thanks to Mike over at one of my favorite blogs. If you want to read something short and funny, go
here
or
here
. If you have a fresh box of kleenex and an evening you'd like to spend reading what will someday undoubtedly be turned into a novel, start
here.
I mean, look at what it does...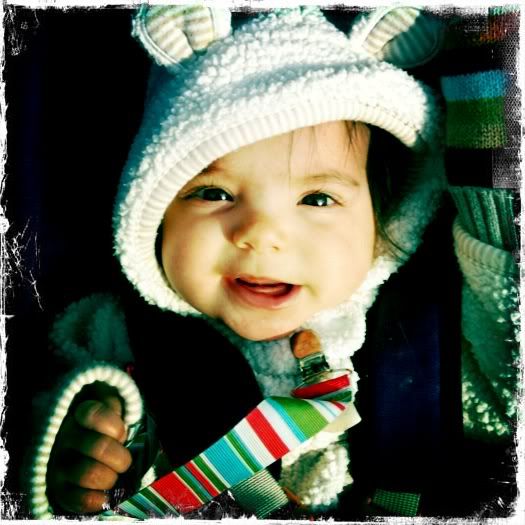 Disclaimer: I am in no way, shape or form benefiting from a single one of these links...not even the Amazon one. In fact, I recently got a letter from Amazon saying that because Colorado politicians are a bunch of $@%%*! (sorry, I couldn't decide on what to call them) they will no longer be doing "business" with Colorado bloggers. Not that I was pinning my hopes and dreams on making my millions through links to Amazon, but considering how much money I spend with them, making a few bucks here or there by recommending things I love seemed just.